The Mousetrap
A murder mystery by Agatha Christie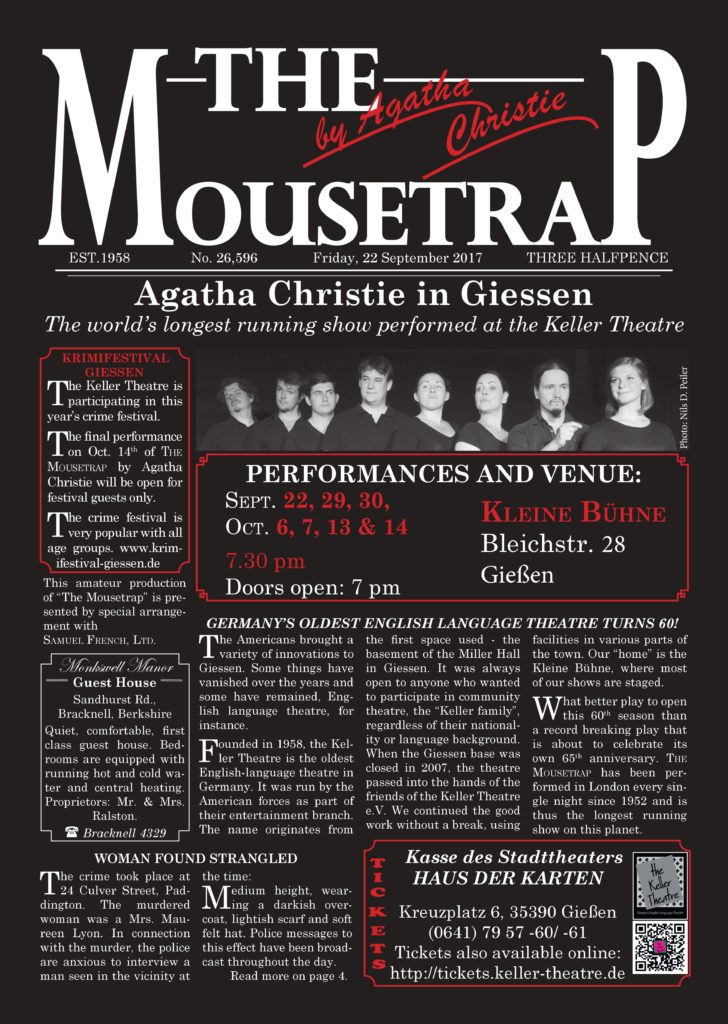 Performance dates
Fri, 22 Sep 2017
Fri, 29 Sep 2017
Sat, 30 Sep 2017
Fri, 6 Oct 2017
Sat , 7 Oct 2017
Fri, 13 Oct 2017
Sat, 14 Oct 2017
Alexandra Hartmann-Flechtner

Detective Sergeant Trotter

Voice on the Radio (mechanics of fear)

Voice on the Radio (BBC news)
Co-Director, production manager, posterdesign

Stefan Hennig, Christoph Schucht

Alexandra Hartmann-Flechtner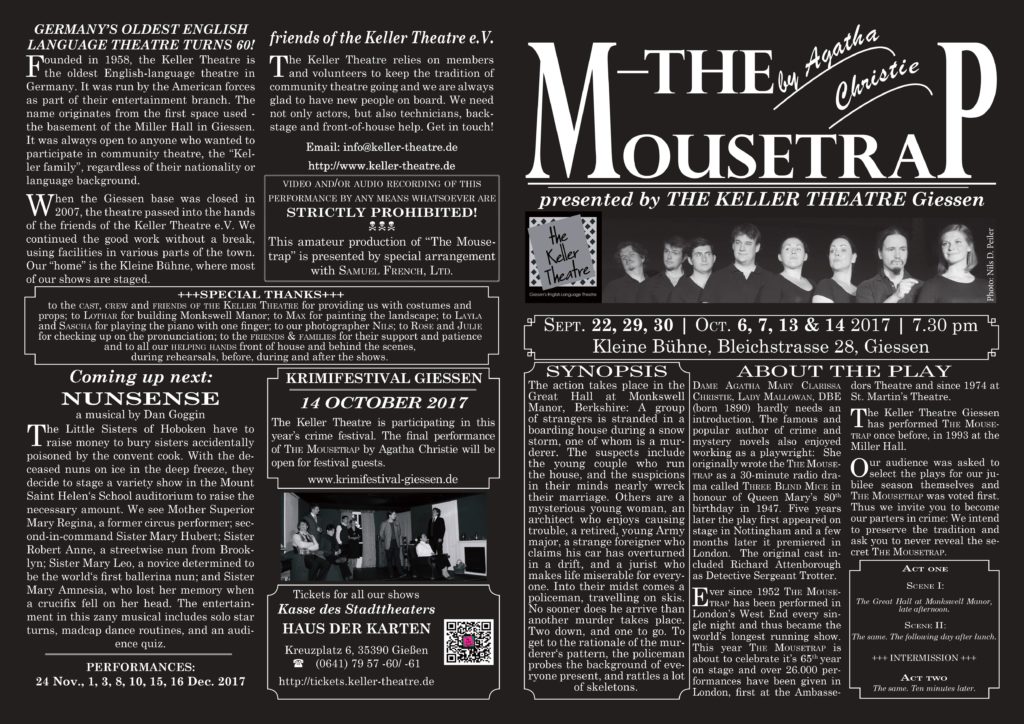 Synopsis
A group of strangers is stranded in a boarding house during a snow storm, one of whom is a murderer. The suspects include the young couple who run the house, and the suspicions in their minds nearly wreck their perfect marriage. Others are a mysterious young woman, an architect who enjoys causing trouble, a retired, young Army major, a strange foreigner who claims his car has overturned in a snow drift, and a jurist who makes life miserable for everyone. Into their midst comes a policeman, travelling on skis. No ssoner does he arrive than another murder takes place. Two down, and one to go. To get to the rationale of the murderer's pattern, the policeman probes the background of everyone present, and rattles a lot of skeletons.
About the Play
Dame Agatha Mary Clarissa Christie, Lady Mallowan, DBE (born 1890) hardly needs an introduction. The famous and popular author of crime and mystery novels also enjoyed working as a playwright: She originally wrote the The Mousetrap as a 30-minute radio drama called Three Blind Mice in honour of Queen Mary's 80th birthday in 1947. Five years later the play first appeared on stage in Nottingham and a few months later it premiered in London. The original cast included Richard Attenborough as Detective Sergeant Trotter. Ever since 1952 The Mousetrap has been performed in London's West End every single night and thus became the world's longest running show.
This year The Mousetrap is about to celebrate it's 65th year on stage and over 26.000 performances have been given in London, first at the Ambassedors Theatre and since 1974 at St. Martin's Theatre. The Keller Theatre Giessen has performed The Mousetrap once before, in 1993 at the Miller Hall. Our audience was asked to select the plays for our jubilee season themselves and The Mousetrap was voted first. Thus we invite you to become our parters in crime: We intend to preserve the tradition and ask you to never reveal the secret of the mousetrap.
Krimifestival Gießen 2018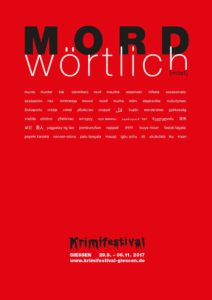 "The Mousetrap" was a part of Krimifestival Gießen 2017, the first cooperation between The Keller Theatre and this very popular local festival.
Reviews
Pictures