The Cloudspotter
a play by Michael Harnett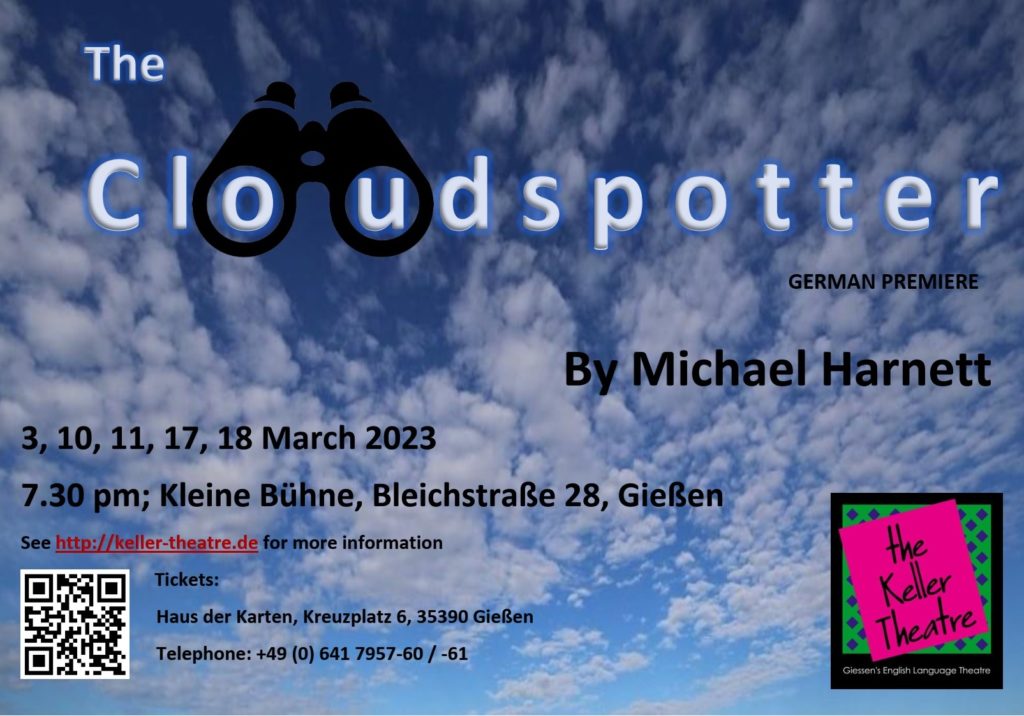 Fri 3 Mar 2023
Fri 10 Mar 2023
Sat 11 Mar 2023
Fri 17 Mar 2023
Sat 18 Mar 2023
at 7.30 pm
Kleine Bühne, Bleichstraße 28, 35390 Gießen
Cast in order of appearance

Angelika von Kittlitz und Ottendorf

Assistant Directors & Stage Management


Cas Kranzbühler, Gabi Gheorghita


Technical Assistance & Sound Qs


Original Song "Sunshine" and other music


The Cast, Crew and friends of the Keller Theatre
About the author & the play
Michael Harnett is an author and playwright. Several of his plays have been produced by RTÉ, Ireland's national television company.
The Cloudspotter opened in Spring 2022 and has been presented at several theatres across Dublin and other places around Ireland. It was also shown at the Five Lamps Arts Festival – and now gets it premiere outside of Ireland at the Keller Theatre.
Synopsis
The action mostly takes place in the kitchen of a council flat/duplex in Dublin, North East Inner City (Five Lamps). The time is now.
Thomas and his Nan live together. He's still a teenager. She's in her sixties. She took him in after his mother died. He's nowhere else to go. Nan's becoming forgetful. Leaves the front door open. Loses her phone and her glasses. But Thomas doesn't worry. Hasn't he just landed a part in a murder mystery film? Or has he? And shortly he'll be heading for Hollywood. And more! He'll be taking Nan with him. But reality strikes when Nan is caught with a kettle under her coat in a shop.
Special Thanks to
Michael J. Harnett for such a wonderful piece of storytelling,
Eileen Glackin for pointing out this play and establishing contact with Michael,
"Natascha's Blumenparadies", Gedern, for the wreaths,
and "Trödlerherz Suvi & Christian", Laubach, for the armchair.
Press
Pictures