Tea at Five
A play in two acts by Matthew Lombardo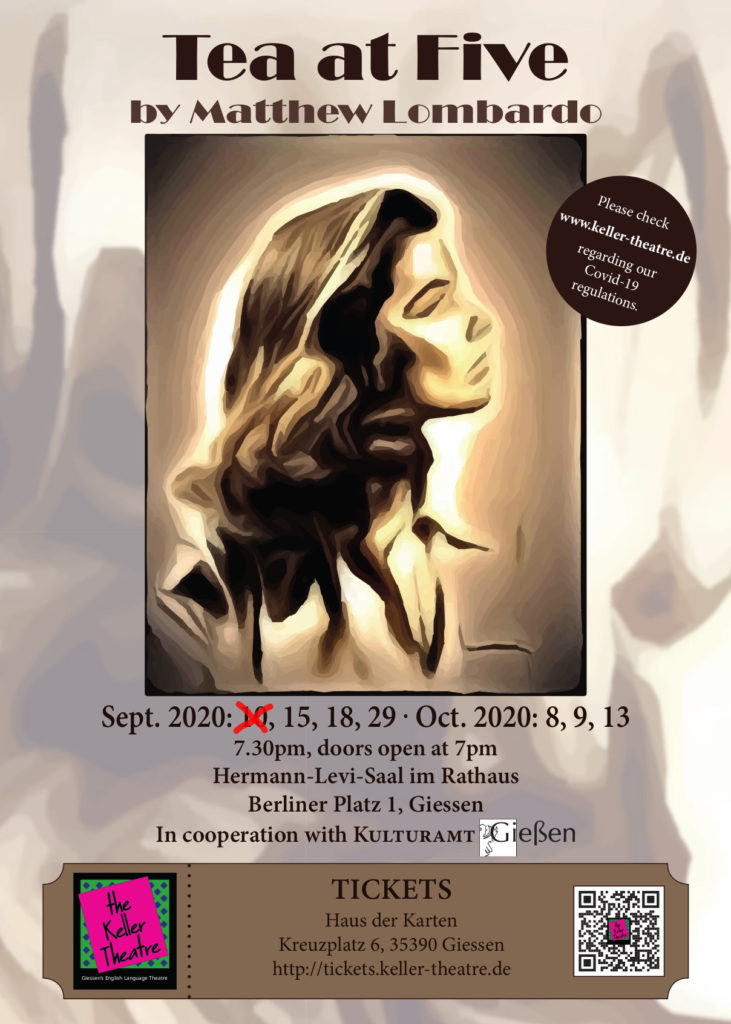 15, 18, 18 September and 8, 9, 13 October 2020
"Hermann-Levi-Saal" – Konzertsaal im Rathaus
Berliner Platz 1
35390 Giessen
Light, sound and set design


Alexandra Harmann-Flechtner

Cast, Crew and friends of the Keller-Theatre
About the play
Tea at Five captures the fiery spirit of Katharine Hepburn in a show that recounts her journey from a well-heeled Yankee childhood to winner of four Oscars. Ensconced at her beloved Fenwick home, Ms. Hepburn reflects on the dizzying heights and emotional lows of her upbringing, her adventures in show business and her heartbreaking romance with Spencer Tracy. Audiences leave with new memories of one of the most dearly loved ladies of an era.

The action of the play takes place at the Fenwick-Estate of the Hepburn family in Old Saybrook, Connecticut.
ACT 1: 21 September 1938
Despite Broadway appearances and her first Oscar, she has just been labeled "box office poison" after a series of film flops. With her professional future in doubt, she contemplates her childhood in Hartford, education and her start in show business.
ACT 2: 14 February 1983
Hepburn was just injured in a car crash. The accident affords the now-legendary star an opportunity to reflect on the triumphs of her career and her heartbreaking romance with Spencer Tracy
Press
Pictures