The Waiting Room
by Christoph Schucht and B. Kleinrensing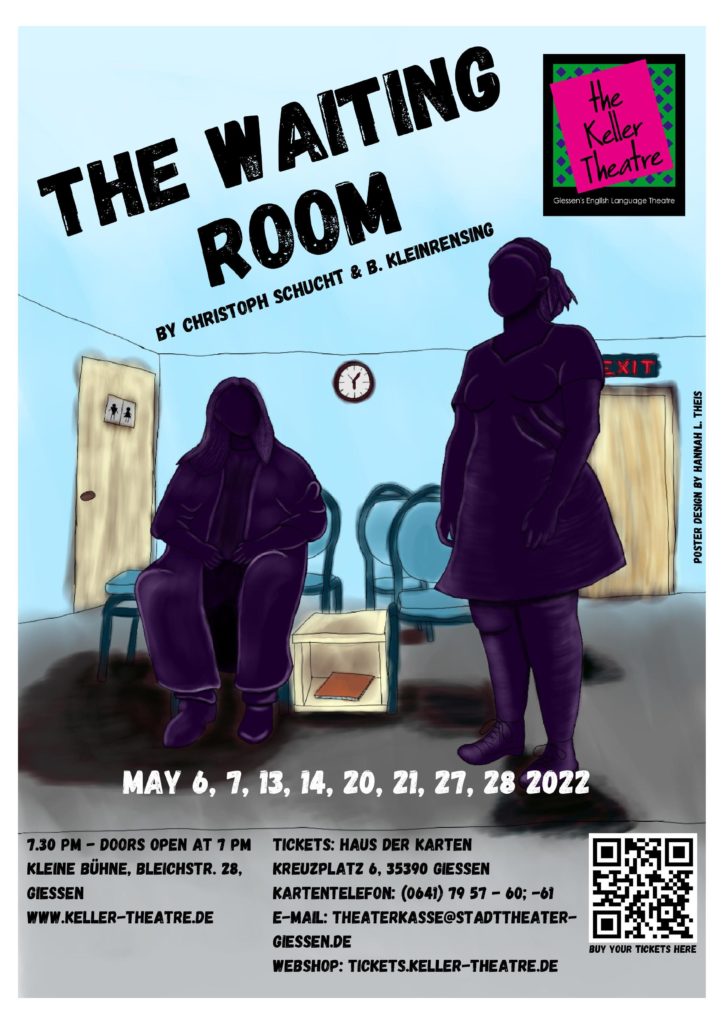 Fr 6 May 2022,
Sa 7 May 2022,
Fr 13 May 2022,
Sa 14 May 2022,
Fr 20 May 2022 and "Meet the Keller"
Sa 21 May 2022,
Fr 27 May 2022 and
Sa 28 May 2022
at 7.30 pm (doors open at 7 pm)
Kleine Buehne, Bleichstrasse 28, 35390 Giessen
Joana Amaral
Christoph Schucht
Hannah L. Theis


Light and sound operators


Stefan Hennig
Jasmina Jovanovska


The Cast, Crew and friends of the Keller Theatre
Synopsis
Sam and Nigel meet in a hospital waiting room. Both have their reasons to be there. Nigel is terrified of becoming a father. Sam is worried about her best friend. As they get talking, they discover they may be able to help each other. The conversation uncovers their fears, anxieties and problems, but unearths or even creates more in the process.

The authors are members of the Keller Theatre, where this new comedy is to receive its world premiere.
About the Authors
Christoph Schucht and B. Kleinrensing have both been a part of the Keller Theatre for many years. Both have gained experience through their involvement on- and off-stage.

The Waiting Room is their first full play performed on-stage and a world premiere. Christoph Schucht had previously performed his short play Living the Moment on the Keller Theatre's stage.

The idea behind The Waiting Room was to bring a light and fun story to the stage and make people laugh and forget about their own daily troubles outside the auditorium.
Press
Rehearsal pictures